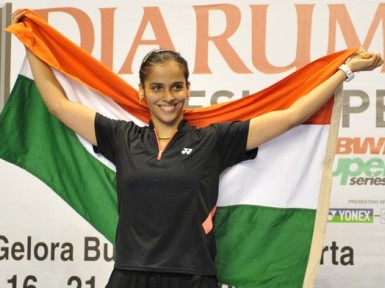 Sania Mirza may have hogged more headlines than any other female athelete in India but could not do justice to the potential she started with. Saina Nehwal on the other hand has everyone in the international badminton circuit noticing her. It's purely her badminton skills that speak for her.
She is just 20 and already a world number three player.
Saina has several firsts to her name. She is the first Indian woman to win a 4-star tournament (Phillippines Open, 2006). The first to reach the quarter finals at the Olympic Games (Beijing 2008). The first Indian to win the World Junior Badminton Championships (2008). The first Indian to win a BWF Super Series title (Indonesia Open, 2009). The first to reach the semi finals of the All-England Super Series (2010).
Saina was elected as the world's Most Promising Player by BWF in 2008. Ever since she continues to justify the honour bestows upon her.
She may not be a tall player but has the ability and the hunger to take even greater strides in her career. The number one spot included!
The young athelete has also bagged two coveted Indian awards - Arjuna Award (2009) and Padma Shri (2010). The list would surely grow.
Bravo girl!